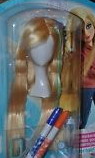 The very long blonde
wig
is sold as a single pack wig.  Two pens are also sold with the wig for the fun activity of highlighting the pale strands of hair. 
Main colour(s)
The main colour of the wig is blonde fibres.  There are no other noticeable colours on this wig.  The marking pens can provide two additional colours to this wig - the colours of the pens are blue and orange.
Style of wig
The wig appears to have a central parting with straight hair. The length of the hair extends about 15
 cm past the wig cap.
The wig can be braided, placed in a beehive type style and various other fun styles.
Graphics on the backing card
The doll on the backing card is Sophie wearing the peach coloured top and jeans.
Similar wigs
A similar wig in terms of having a blonde colour is the platinum blonde with bangs wig.