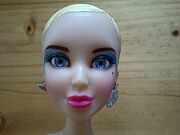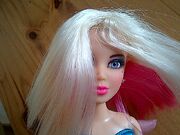 'Twist & Dance' was a line of Liv dolls that was released in Febuary 2011. They could move their hips and could twist their wigs similar to dolls with rotating scalps. The Twist & Dance dolls are unable to sit down.
The wigs have two colours.  As the dolls are sold with one colour in the wig showing, when the wig is turned to reveal the other colour, the fibres tend to need brushing to get the hair to stay out of the dolls face.  There also tends to be less hair in the middle of the wig and these wigs would do best in two pony tails (as retailed for the Sophie doll).  The wig has soft fibres and would encourage a lot of brushing.
Jake is pictured wearing red pants and a grey t-shirt, however, Jake was not released in this wave.  There is evidence that this outfit was sold as Jake's outfit has been seen for sale and Jake has been seen on Flickr wearing this outfit.
Sophie has a black beauty spot on her left cheek and has turquoise eye shadow with a small amount of mauve.  Her lips are bright pink.