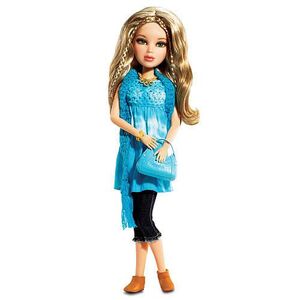 The cost of the turquoise tie dyed top and pants was not available.  This outfit has a 'Liv 'n Hip' tag.
Top
A turquoise and white tie dyed top having a ruched bodice. A separate turquoise scarf.
Pants
A three quarter length pair of blue denims.
Shoes
Flat (without heels) tan colour boots are visible.
Bag
A turquoise coloured plastic handbag.
Jewelry
A yellow plastic necklace and bangle are visible.
Doll wearing the outfit
The doll featured on the front of the backing card has blonde hair and is Hayden.