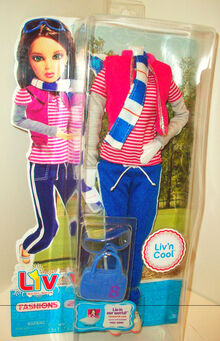 This outfit is part of the 'Liv 'n Cool' range of clothing.
Top
A short sleeved red and white horizontal striped t-shirt with full length grey sleeves.  A pink or red waistcoat.  A scarf with red, white and blue bands of different sizes.
Pants
A pair of cobalt blue tracksuit pants with white trim on the outer leg seams.
Shoes
Possibly wearing white trainers or running shoes.
Handbag
A blue handbag is visible having a number 8 in pink or red.
Sunglasses
A pair of sunglasses is included - the frames are blue and the lenses appear tinted.
Doll wearing the outfit
The doll featured on the front of the backing card has brunette hair and could be Katie.