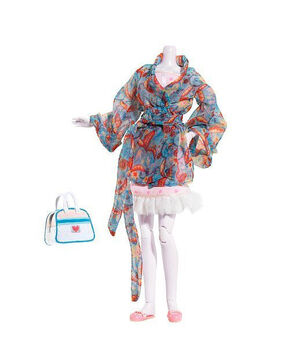 The paisley gown with the pink spotted nightie was sold with
Alexis on
the graphic.
This set is officially sold as Sweet Dreams.
Top
A pink sleeveless nightie with white spots, white spaghetti straps and a white mesh frill is worn under a paisley printed gown having blue and orange colours.
Slippers
The slippers are pale pink; the style of the slipers is not visible.
Bag
A white plastic overnight bag having some blue trim and a pink heart on the one side is visible in the pack.
Accessories
None visible
Doll wearing the outfit
The doll featured on the front of the backing card is Alexis.