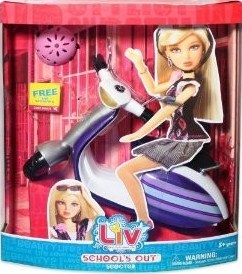 The Liv dolls featured as a paper doll or real doll inside the playset (pack) is 
Sophie
. 
Sophie
wears her
School's Out clothing
.  The playset that has the real doll appears to be a Toys R Us exclusive set.
Contents of the pack
The pack has the following items: 1 scooter, 1 paper doll or 1 real doll, 1 hairbursh and 1 helmet.
The scooter wheels can turn.
Colour scheme
The frame of the scooter is white;  there is a multi coloured panel on the side that is made from purple, mauve and grey strips.
The seat of the scooter is black, along with the indicator and brake levers.  The scooter has a light in front with a yellow lens (it is not known if it works). The helmet is pink with a black chinstrap.
The production graphic has a purple framed scooter with a white helmet having a red racing stripe.