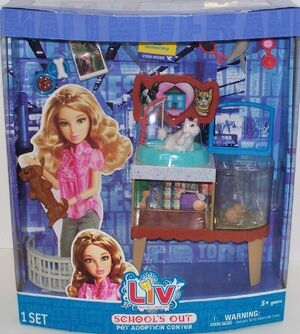 The Liv doll featured on the front graphic of this pack is Hayden.  The pictures on the back of the pack are not visible.
Contents of the pack
The pack has the following items: 1 paper doll (Hayden), 1 dog,  1 dog pen, 1 cat sitting in a cat bed, 1 hamster inside a hamster cage, 1 bird, 2 pet food bowls, 1 mirror, 1 bag of dog food, 1 bone, 1 newspaper and the work surface that is the playset.
Colour scheme (based on graphics)
The colour of the pet adoption centre  is white and orange.  The dog is a deep tan colour, the cat is white, the hamster is tan and the bird is gray with traditional yellow markings.  The cat bed is turquoise.