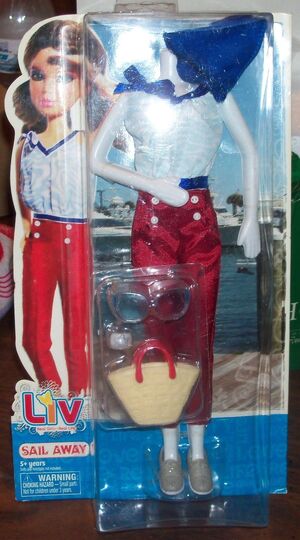 The Sail Away outfit was sold in the US and is pictured on the official Liv doll site - though it is called "on the water" outfit on this site.
Top
A v-necked sleeveless blouse that appears white but actually has a very feint blue wavy pattern on the white fabric.  The actual top has thin dark blue ribbons on the waist hem and neckline.  The Liv website has these ribbons in blue with white edges.
Pants
A pair of red capris pants.  The actual outfit has four white buttons on the pants front and none on each leg.  The outfit on the official site has six white buttons on the pants front and two on each leg.
Shoes
Flat beige or silver and white coloured deck shoes with a white sole and made from flexible plastic.
Hat
A dark blue hat is included in the pack.
Bag
A faux straw coloured tote bag with red handles.
Accessories
A pair of sunglasses having a pale coloured rim are visible.  A blue hat is also part of the outfit.
Jewelry
A possible bangle with a silver star in a glitter paint.
Doll wearing the outfit
The doll featured on the front of the backing card is Katie.