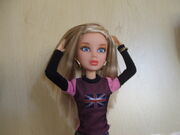 The Rock Concert Outfit r
etail cost was R149 (or $15).
Top
Pink jersey cloth with a black mesh only over the front. A Union Jack flag is centred on the front at breast level. Velcro is used to close the top up in the back.
Pants
Blue denim pants with yellow(?) sewing and frayed edges at the leg hems. The pants velcro closed in the front.
Shoes
Strappy black sandals (shoes) with high heels and made from flexible plastic.
Handbag
A rigid black plastic handbag without any openings or closures and unable to store anything.
Jewelry
A brown plastic bracelet and plastic gold hoop earrings were included in the pack.
Doll wearing the outfit
The doll featured on the front of the backing card is unknown and could be Sophie.