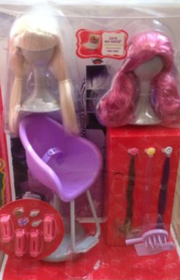 The platinum blonde
wig
with bangs is retailed in the salon set with a 
curly pink wig.
The salon set also has a pink, purple and brunette hairpiece.
Main colour
This wig has platinum (light) blonde fibres as the only colour.
Style of wig
The wig has bangs (or a fringe) with a central parting and the wig length is a longer length wig. The hair is straight and gently tied into two ponytails in the pack. The length of the hair extends about 8 cm past the wig cap.
Graphics on the backing card
Neither doll shown on the graphics of the pack are wearing this wig - this wig is shown on a wig stand. Sophie is pictured curling Daniela's hair and it appears that both dolls are wearing their original outfits and wigs
Similar wigs
A similar wig in terms of the colour is the platinum blonde wig.