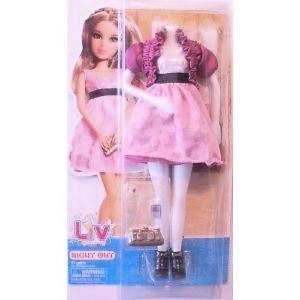 The retail cost of the Night Out dress is unknown.
Dress and shrug
A pale pink satin bodice with a soft draping skirt having a simple five leaf flower design.  A plum coloured shrug is worn on the shoulders.
Shoes
Dark coloured closed shoes.
Handbag
A small clutch bag in plastic and either a beige or tan colour.
Jewelry
No jewelry spotted in the pack.
Doll wearing the outfit
The doll featured on the front of the backing card appears to be Hayden.