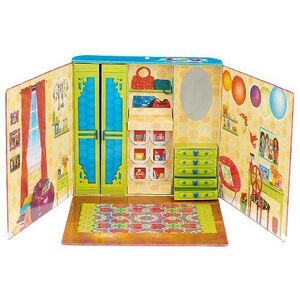 The Liv doll 'My Room' playset has a picture of the four friends on the outside - the dolls are (left to right) Sophie, Daniela, Alexis and Katie and they are pictured with the Eiffel Tower (Paris) in the background.
This playset could be used to link to the house or lodge.
Contents of the pack
The pack has the following items: 1 bedroom themed playset having a bed in a cupboard and a chest of drawers. The other items such as the desk, carpet and curtains are printed and cannot be changed.
Colour scheme (based on graphics)
The frame of the house is yellow and red. The bedroom has yellow walls with a design printed on them. The dresser (set of drawers) is green with a blue butterfly on each drawer.  The printed carpet has a modern design and the curtains are red.
Size of the playset
The size of the playset is given as about 14" x 13" x 4" (36 cm x 33 cm x 10 cm).
Text from the pack
"This is the place for weekend or after school chillin'.  We put on our fave sounds, try on clothes and have fun doing outrageous makeovers."