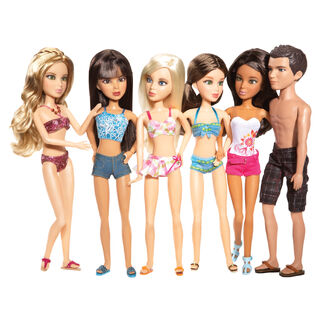 'Making Waves' was a line of Liv dolls that hit stores in the Summer of 2011 but were easily found January 2011. They consist of the Liv girls in beach wear and the introduction to the boy doll named
Jake
. They also had accessory packs available for the girls to hang glide, surf, wind board, relax and tan.
Although the picture shows shoes, the dolls never came with this accessory. Instead a small accessory pack was available for separate purchase and included a beach bag, towel, sunglasses, sunblock and flip-flops.
The dolls were each retailed with a pair of sunglasses in the pack; Sophie has pink sunglasses, Alexis has dark pink sunglasses, Daniela has turquoise sunglasses, Katie has blue sunglasses and Hayden has plum coloured sunglasses.