The long pink wig is sold in a book type pack.
Main colour
This wig appears to have a single pink colour throughout the wig.
Style of wig
The wig has a fringe. The hair is straight. The length of the hair extends about 15 cm past the wig cap. 
Graphics on the backing card
The doll on the front of the book cover is
Sophie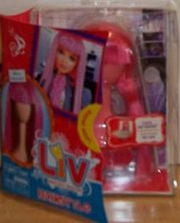 wearing her
original outfit
.
Similar wigs
A similar wig in terms of the colour is the curly pink wig.