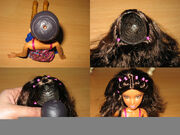 Liv girl dolls are ball jointed dolls (BJD) with wigged hair -these wigs are easily changeable. The girl dolls also have a pixie style haircut painted onto their heads and do not require a wig.
The wig mechanism works with a plastic peg on the wig and a hole on the girl doll's head. Liv wigs are rooted on a soft plastic cap. The outer diameter of the wig hole is 8 mm and the inner hole is 4.28 mm.
Liv wigs are made with kanekalon fibers. This wig fibre is considered soft and silky. The wigs are criticized because they are unevenly cut - but this is a good reason to cut the wig to suit the doll.
One wig comes with each doll with the exception of the first wave in which each doll was sold with 2 wigs - a long and short wig. Wigs are also sold separately, with a hairbrush, an outfit, another wig or in a deluxe set of two wigs and some accessories.
There are some very long wigs that are sold with beads or pens.
Earlier wigs come with longer bendable peg and more recent ones bring a stiff short peg. Wigs were also avalable in child sizes in the range 'Liv Stylin' Head'.  The wigs changed color in the Color Change/Spa Makeover Line.