Spin Master Ltd
is the Canadian toy manufacturer that produced the Liv dolls from 2009 to 2012
The line was discontinued and replaced with another line of dolls named 'La Dee Da' that was discontinued in 2014
Welcome to the Liv Dolls Wiki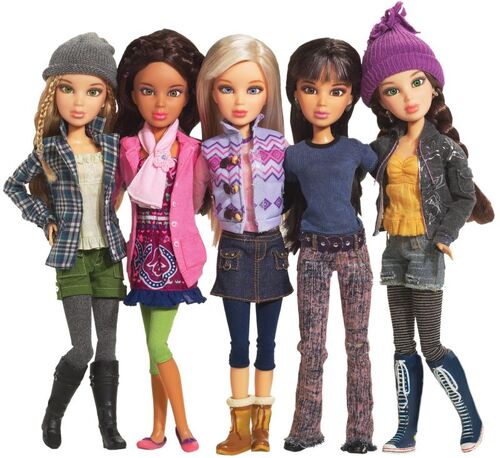 The dolls are referred to as being 12" fashion dolls, though some sources state they are shorter than this at 11.5". The dolls have been measured to be 28.7 to 29.1 cm (or 11.3" to 11.45" without the wigs).
The dolls have acrylic eyes (often mistakenly called glass eyes), characteristically larger heads than other popular fashion dolls and wigged hair for the girl dolls.
The dolls with 14 points of articulation are sold with the tag that they can do 150 poses. The 14 points of articulation are – 2 wrists, 2 elbows, 2 shoulders, 1 head, 1 waist, 2 legs, 2 knees and 2 ankles. Not all dolls from all the waves (releases) had all 14 points. Some dolls with knee joints have kneecaps! The other features that identify these dolls is that they have belly buttons and the toes are visible on the feet.
The 2012 Brites wave of Liv dolls were not articulated with 14 points.
The original characters versus main characters
The four original dolls are - Sophie, Alexis, Daniela and Katie - others times there are references to the three main characters - these are seen as - Sophie, Alexis and Daniela.
The official site is at http://livworld.com/ . This site is working in August 2014, despite the fact that the dolls were discontinued.The following sites are listed in no particular order:
Various flickr, pinterest and other photo storage sites also have pictures of the Liv dolls.
Other sites with good information include retailers such as eBay and Amazon. Pictures of accessories such as the wigs, were viewed at online retailers and the details summarised on this wikia.