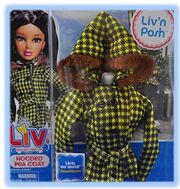 The hooded pea coat is one of five coats sold. The doll on the backing card is Alexis in a brunette wig.
The coat is part of the 'Liv 'n Posh' range.
Main colour(s)
The main colour of the hooded pea coat is black with the black and yellow houndstooth-like fabric making up the front, back, long sleeves and hood. 
The hood is trimmed in a brown faux fur type fabric. Small black buttons are sew on the front and there is also a fabric belt.
Fabric
The hooded pea coat appears to be made from a lightweight cotton or synthetic fabric.