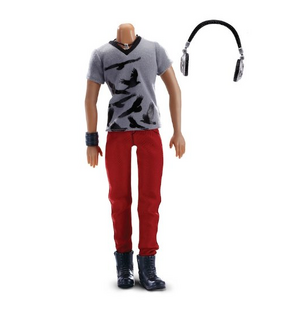 The Date night outfit for Jake was released in <year>. Retail cost was <

$XX>

.
The official Liv site names this the 'Date night' outfit. It contains: red pants, grey/black shirt, black boots, pendant on a neck cord, black wrist band, and headphones
Top
A long sleeved pale blue shirt with thin vertical stripes in a darker blue colour and having white buttons.  The top has embriodery on the left front side.
Pants
Long denim pants in a traditional dark blue colour.
Shoes
Black Boots
Accessories
Headphones
Jewelry
Black wrist band and a pendant on a neck cord.
Doll wearing the outfit
This outfit is intended for Jake - the boy doll.