Daniela



Eye colour:

Brown

Name of dog:

DJ

Name of horse:

None

Activities done:

Drumming

After school activity:

Drumming

Other:

Has 4 BFFs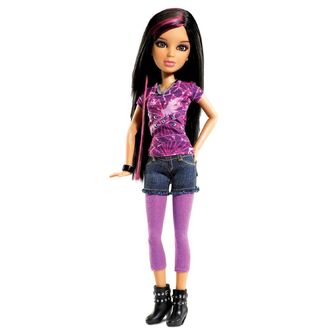 Daniela is one of the original 4 main characters in the Liv line and is seen as one of the 3 main characters.

Daniela's default coloring is black hair, brown eyes and tan skin and she often wears her hair in bangs. She is considered to have a Hispanic ethnicity. In some versions Daniela has different colored hair - in the 'Twist and Dance' it is black and reverses to blonde. 

Daniela was introduced originally and is seen as one of the main characters. She is one of the main 3 characters with Alexis and Sophie.

Daniela wishes to be a rock star and can play the drums and the guitar as seen in School's Out and It's My Nature. She works in a cafe as seen in the webisodes. Daniela has a golden labrador dog named DJ. 

Daniela tends to wear bold colors such as purple, green and blue.

Daniela appears in the 'Liv in Wonderland' series as the White Queen.
Characters | Waves | Wigs