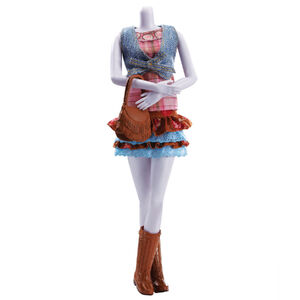 The Cowgirl outfit retail cost was not available. This outfit has not been seen for sale in the secondary market.
This outfit was named by the contributor of the page and could have other names such as multi-tiered dress.
Top
A pink and brown plaid cotton top without sleeves is covered by a denim coloured shrug/waistcoat.
Skirt
A short four layered frill skirt - in alternating colours of pale blue and brown is the cowgirl skirt.
Shoes
Long length tan coloured boots help name this outfit.
Bag
A tan coloured handbag.
Accessories
No further accessories are visible.
Doll wearing the outfit
The doll featured on the front of the backing card has blonde hair and is Hayden.