The brunette with pink highlights wig is sold in a single pack.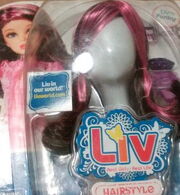 Main colour(s)
The main colour of the wig is brunette (brown) fibres, with some pink highlights.
Style of wig
The wig appears to have a side parting and bangs are not visible but may exist. The hair is straight and may be slightly wavy on the ends. The length of the hair extends about 12 cm past the wig cap.  
Graphics on the backing card
The doll on the front of the backing card is wearing a pale pink top similar to Hayden's outfit for pet adoption.
Similar wigs
A similar wig in terms of this colour combinations is the brunette with bangs and dark pink highlights wig.