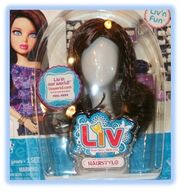 The brunette wig with a braid is sold in a single
wig
pack. 
Main colour(s)
The main colour of the wig is brunette (brown) and appears to be consistent across the entire wig.
Style of wig
The wig has a middle to side parting with at least one braid and possibly one each side of the parting. The hair appears to be straight. The length of the hair extends about 12 cm past the wig cap. 
Graphics on the backing card
The doll pictured on the backing card is Sophie wearing her purple puppy walking top
Similar wigs
A similar wig in terms of this colour, is the brown with bangs wig.