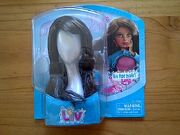 The brown with bangs
wig
is sold in a single wig pack.  This wig is also sold in a double wig pack.
Main colour(s)
This wig appears to have a single brown colour throughout the wig. Brown and brunette are considered the same colour on this site.
Style of wig
The wig has short bangs that sweep to the left side and a right side parting. The hair is straight and pictured loose. The length of the hair extends about 12 cm past the wig cap.
Graphics on the backing card
The doll on the backing card is Alexis wearing a pink top and blue shrug
There are two dolls on the backing card for the double wig pack; this wig is the wig underneath and the doll is wearing a pink top and blue shrug. The other wig in this pack is a platinum blonde wig with hidden pale blue streaks.
Similar wigs
A similar wig in terms of the colour, is the black wig.