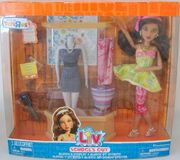 The Liv dolls featured on the front graphic for this playset is
Alexis
as a paper doll.  The actual doll was sold in a separate pack and some window packs had the actual Alexis doll.
The playset sold for R199.90 in South Africa (about 20US$).
Contents of the pack
The pack has the following items: one (display) window, one mannequin (clothes model), one purse, two clips (butterfly style), a necklace, two belts, a sticker sheet (to attach to the clear window), three scarves (these are pieces of fabric for boob tube dresses), a paper or actual doll of Alexis (not mentioned as contents on the playset) and a butterfly shaped clip (also not mentioned). 
Colour scheme (based on graphics)
The colour of the boutique window is clear plastic - the base is a beige colour.  There are a variety of stickers that can be placed onto the clear window surface and so liven up the window.  The stickers are blue, orange and green.
The mannequin (clothes model) is made from white plastic and has a stand, arms with elbows and joined legs but no head.  As such this model can only wear dresses for display.  The three scarves (pieces of fabric) are - a vertical striped navy and black piece, a pink & mauve & purple & white horizontal fabric and a pink & white & dark pink paisley type fabric.
The necklace is black with a silver plastic decoration.  The butterfly clips are grey and pink in colour.
The belts are black with one having a butterfly-shaped clip in silver plastic.  The purse (or handbag) has a pinkish colour and does not open.
Alexis wears a baby doll top in pink and green with a pale green fabic below the bodice.  She also wears pale green leggings and is pictured with strappy white sandals without a heel.