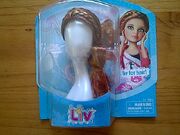 The auburn wig is sold in a single
wig
pack.
Main colour
The main colour of the wig is auburn (also termed strawberry blonde or copper).  The braid is a lighter colour compared to the wig and is a caramel colour.
Style of wig
The wig has a side parting with a braid and ponytail.  The hair appears to be straight. The length of the hair extends about 12 cm past the wig cap.
Graphics on the backing card
The doll on the backing card appears to be Katie or Hayden and the doll is wearing the tennis outfit.
Similar wigs
The auburn wig with side pony could be considered a similar wig.